Neo- Conceptualist artist, Jenny Holzer is famous for her short statements, formally called 'truisms'. Some are common myths while others are phrases on random subjects in the form of slogans. Her medium, whether formulated as a t-shirt, as a plaque,or as an LED sign, always is writing, and the public dimension is integral to the delivery of her work. Starting in the late 1970s with the posters that Jenny Holzer pasted on buildings in New York City, and up to her xenon projections on landscape and architecture, her practice has rivaled ignorance and violence with humor, kindness, and moral courage.


Often Holzer's work presents both explicit content and minimalist aesthetics that make profound statements about the world of advertising and consumer society today. By presenting an assemblage of phrases that mimic advertising slogans through vehicles commonly used in advertising, such as electric billboards, coffee mugs, and commercials on cable and network television, Holzer questions what our eyes can see and what we can't see in media, whether consumers today have any real control over the information that is provided to them.

Going back to her years as a painter at the Rhode Island school of design, Holzer says she was influenced by the 'clean, simple variations' of minimalist aesthetics in artists like Donald Judd, Mark Rothko and Morris Louis. (source)
Read a fabulous biography here, you won't regret it. The woman is fascinating.
Jenny Holzer. Xenon for Florence, 1996.
Jenny Holzer. Installation for the Guggenheim, 1990.
Jenny Holzer. Inflammatory Essays, 1979.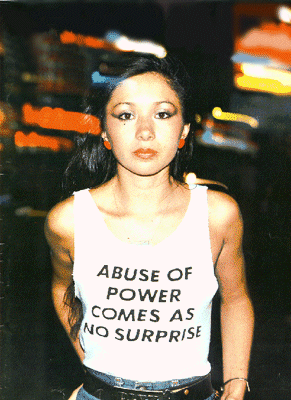 Holzer also
tweets
, but that also comes as no surprise.
nor should it surprise you that i suggest you
enter this
.